At Poole and Thomas Pediatrics, our team consists of experienced, compassionate pediatricians and friendly, nurturing staff members who take pride in giving our patients the personalized pediatric care that they deserve.
We understand that you have a choice of pediatricians in the Lexington area, and we appreciate your consideration. We can assure you that you'll feel confident in our ability to meet your expectations.
All of our providers are highly educated professionals who have undergone rigorous academic and clinical training in pediatrics. We maintain a high level of expertise through continuing education in order to provide the most up-to-date care for the patients we are privileged to serve.
Poole and Thomas Pediatrics believes in a team approach to your child's health and well-being, so our doctors collaborate with parents to provide the highest level of care. We appreciate the opportunity to care for your child and pride ourselves on making pediatric care a pleasant experience for all of our patients.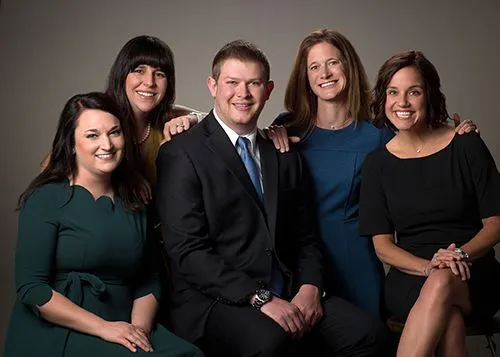 Megan T. Poole, M.D., graduated and completed her pediatric residency from the University of Kentucky School of Medicine in 2006. Since then, Dr. Poole has practiced pediatrics in Lexington, Kentucky. The daughter of an Air Force helicopter pilot and a nurse practitioner, Dr. Poole learned the value of staying connected as a family while moving multiple times throughout her childhood. "Children face difficult circumstances with resilience if encouraged and cared for by the network of adults around them."

Dr. Poole has two children, John David and Claire. She enjoys running and attending Claire's multiple sporting events when she is not taking care of her patients.

Rachel A. Thomas, D.O., earned her medical degree from Kentucky College of Osteopathic Medicine at the University of Pikeville in 2012 and completed her pediatric residency at the University of Kentucky in 2015. Dr. Thomas is a native of Elizabethtown, Kentucky. Her mother and father, a cardiac rehab nurse and a veterinarian, raised their four girls to be hard workers and steadfastly devoted to helping others. Dr. Thomas wants to make an impact on the lives of her patients, empowering them to lead a healthy life.

Dr. Thomas is an avid piano player and loves boating on the lake in the summers. She and her husband, J.W., love spending time with their families, especially their nieces and nephews.

Kibbe M. Crowley, M.D., earned her medical degree from the University of Oklahoma Health Science Center in 2005 and completed her pediatric residency at the University of North Carolina in Chapel Hill in 2008. Dr. Crowley spent the first five years of private practice in Austin, Texas, moving to Lexington in 2014. Dr. Crowley is passionate about her commitment to families and helping families raise their children. She believes she has the best job in the world caring for children and their families.

Dr. Crowley and her husband, Ryan, have two children, Evelyn and Emmet. She enjoys any outdoor activity with her family, running and live music.

Alexander D. Goodsell, M.D.

Alexander D. Goodsell, M.D., graduated from the University of Kentucky College of Medicine and completed his pediatric residency there in 2019. Dr. Goodsell grew up in LaRue County, Kentucky and was a competitive baseball player through college. His wife, Dr. Laura Goodsell, practices internal medicine and is a native Lexingtonian. She states that Pediatrics is perfectly suited for her husband's personality. "It is the only specialty choice in medicine where you can act like a big kid while improving children's lives all at the same time."

Dr. Goodsell enjoys reading, grilling, and cooking, along with disc golf and multiple other sports.

Stacey K. Burnett, A.P.R.N., graduated with honors from the University of Kentucky Nurse Practitioner program in 2001. Prior to that, she was a Pediatric and Neonatal ICU nurse for five years. She is board certified by the ANCC and a member of the American Academy of Pediatrics. Mrs. Burnett worked as an A.P.R.N. at Health First Bluegrass for 15 years before joining Poole & Thomas Pediatrics in 2017. She loves being a part of a child's well-being from birth into young adulthood and believes that listening to parents is the most important part of pediatric care.

Stacey and her husband, John, have three sons, Nathan, Owen, and Wright. She enjoys hiking, traveling, doing puzzles, and cheering on her sons during their numerous activities.

Tanya

E. Crockett DNP, APRN

Tanya E. Crockett DNP, APRN graduated with her Master ('11) and Doctorate ('18) degrees from Vanderbilt University. She is a Certified Primary Care Pediatric Nurse Practitioner through PNCB with over 26 years of pediatric experience. Prior to obtaining her pediatric nurse practitioner degree, she worked for 15 years at Kosair and UK Children's hospitals in a variety of settings. Her doctoral scholarly project focused on raising awareness of Adverse Childhood Experiences (ACEs) in a primary care clinic driven by her passion to foster and treat both the physical and emotional needs of children. Currently, she is pursuing her Psychiatric/Mental Health Nurse Practitioner degree at the University of Cincinnati (Spring 2024). Before joining Poole and Thomas, Ms. Tanya was an APRN at the University of Kentucky General Pediatric and Maxwell Street Clinics and HealthFirst Bluegrass. She believes educating and empowering caregivers to understand and meet the needs of their child is the most rewarding part of her job. Professional memberships include the American Academy of Pediatrics and the National Association of Pediatric Nurse Practitioners (NAPNAP) where she serves as President for the Kentucky Chapter of NAPNAP until 2024.

Tanya and her husband Daniel have 4 children. Jerod (Rebekah) 25, Meredith (Colton) 24, Blake 23, and Grayson 21 plus 2 grand dogs June and Maxwell. She enjoys running/exercising, reading, cooking, and spending time with her husband and children.